Hip Strain Treatment Overview
Find the right care and learn about different treatments.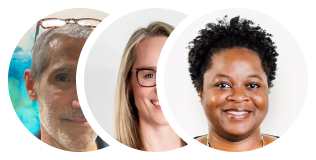 Care Plan
1
First steps to consider
A hip strain can usually be treated at home with OTC pain relievers, rest, and ice.
2
When you may need a provider
You still have pain after 2–3 weeks of home treatments.

You have pain in the hip and thigh area after a fall or you think you may have broken a bone.
Emergency Care
Go to the ER if you have any of the following symptoms:
Severe pain

You can't put weight on the leg
The suppliers listed follow Buoy's clinical guidelines, but listing the suppliers does not constitute a referral or recommendation by Buoy. When you click on the link and/or engage with these services Buoy will be compensated.
All treatments for hip strain
Read more about hip strain care options
When to see a healthcare provider
See a healthcare provider if your hip pain continues for about 3 weeks, you have severe pain, or you've had a fall and think you may have broken a bone.
Getting diagnosed
Your provider will diagnose hip strain based on your symptoms and a physical exam.

If hip strain is more severe, your provider may request an ultrasound, X-ray, or MRI to check for tears, internal bleeding, and fractures.
What to expect from your doctor visit
Your healthcare provider will discuss what you can do at home to help your hip strain to heal, like resting your hip, using ice and heat, and taking anti-inflammatory medications.

Physical therapy may be recommended to treat your muscle pain and to improve your strength and flexibility. Or your provider may give you instructions for a home workout program.

In rare cases, if you have severe pain and weakness, a hip flexor muscle may need surgery to repair it.
Types of hip strain providers
A primary care provider can treat mild to moderate symptoms.

An orthopedist is a specialist who treats muscle, tendon, and bone issues. You may be referred to an orthopedist if hip strain is persistent or severe.

If hip strain was caused by a sports injury, you may be referred to a sports medicine provider.

A physical therapist can offer stretching, strengthening, and treatments to relieve your pain.
Treating hip strain at home
Rest the muscle for about 2–3 weeks. Do not do activities that stress your hip like squatting, sprinting, kicking, lunging, or bending down low to lift heavy objects. You can try walking and doing very gentle stretching.

Even if the pain goes away after a few days or a week, you need to avoid activities that stress your hip for 2–3 weeks to let the torn muscle heal.

After 2–3 weeks, if you no longer have pain, gradually return to your activities.

Ice painful areas for 15–30 minutes, 4 times a day, for the first 3 days after the injury.

Take ibuprofen (Advil, Motrin) or naproxen (Aleve) for pain and inflammation. You can also take acetaminophen (Tylenol) for the pain.

You may be referred to physical therapy to learn some strengthening and stretching exercises you can do at home.
Wellness and prevention
When strength training, don't lift weights that are too heavy or cause you to use bad form.

Do not kick objects forcefully unless you have specific training and conditioning.

Whenever you feel pain, rest until the pain goes away. If you keep using the muscle, the strain could get worse.

Always warm up before exercise and stretch afterward.
Frequently asked questions